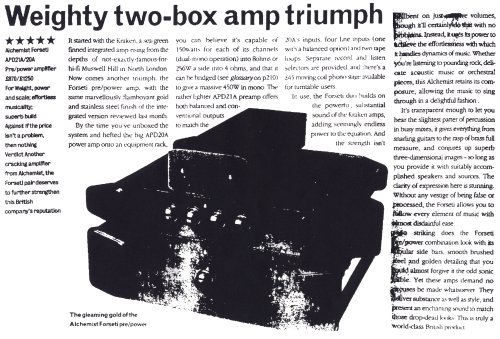 It started with the Kraken, a sea-green finned integrated amp rising from the depths of not-exactly-famous-for-hi-fi Muswell Hill in North London. Now comes another triumph: the Forseti pre/power amp, with the same marvellously flamboyant gold and stainless steel finish of the integrated version reviewed last month.
By the time you've unboxed the system and hefted the big APD20A power amp onto an equipment rack, you can believe it's capable of 150watts for each of its channels (dual-mono operation) into 8ohms or 256W a side into 4 ohms, and that it can be bridged (see glossary on p210) to give a massive 450W in mono. The rather lighter APD21A preamp offers both balanced and conventional outputs to match the 20A's inputs, four line inputs (one with a balanced option) and two tape loops. Separate record and listen selectors are provided and there's a £45 moving coil phono stage available for turntable users.
In use, the Forseti duo builds on the powerful, substantial sound of the Kraken amps, adding seemingly endless power to the equation. And the strength isn't hellbent on just massive volumes, though it'll certainly do that with no problems. Instead, it uses its power to achieve the effortlessness with which it handles dynamics of music. Whether you're listening to pounding rock, delicate acoustic music or orchestral pieces, this Alchemist retains its composure, allowing the music to sing through in a delightful fashion.
It's transparent enough to let you hear the slightest patter of percussion in busy mixes, it gives everything from snarling guitars to the rasp of brass full measure, and conjures up superb three-dimensional images - so long as you provide it with suitable accomplished speakers and sources. The clarity of expression here is stunning. Without any vestige of being false or processed, the Forseti allows you to follow every element of music with almost disdainful ease.
So striking does the Forseti pre/power combination look with its tubular side bars, smooth brushed steel and golden detailing that you could almost forgive it the odd sonic foible. Yet these amps demand no excuses be made whatsoever. They deliver substance as well as style, and present an enchanting sound to match those drop-dead looks. This is truly a world-class British product.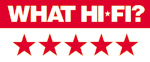 Alchemist Forseti APD21A/20A
Pre/power amplifier £870/£1250
For: Weight, power and scale; effortless musicality; superb build
Against: If the price isn't a problem, then nothing
Verdict: Another cracking amplifier from Alchemist, the Forseti pair deserves to further strengthen this British company's reputation.